The story behind Pullip / Akemi
The story behind Pullip / Akemi

Groove will release Pullip / Akemi in October 2013.
A Collaboration with the International Creator, Sheryl Designs!!
--For the first time, the Creator's Label has collaborated with an international creator.
**** Please note. The image is in under development. This spec may be changed without notice. ***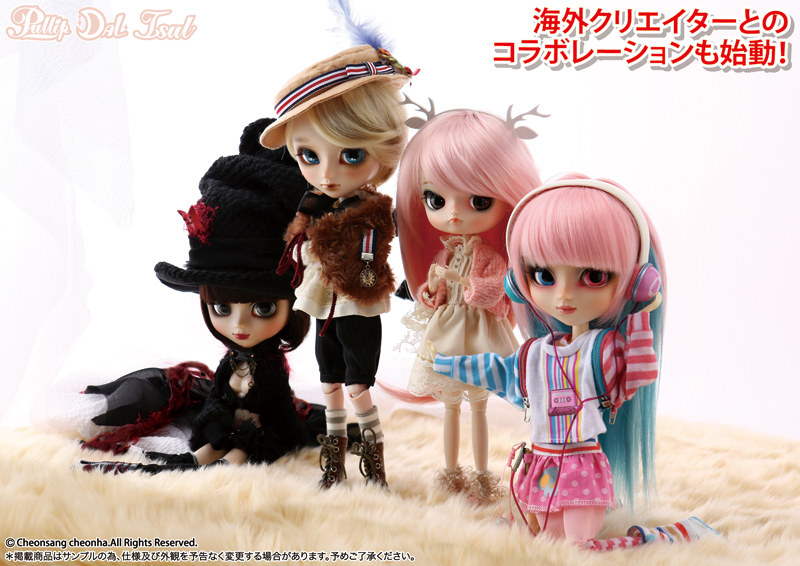 Amongst all the creators worldwide, unique Pullip that has never been seen before is now here!!
--Sheryl Designs, a Spanish Creator with many fans worldwide and appearances in international information sites and television, has customized the Pullip series.
P-107 Pullip / Akemi JPY15,000 (excluding tax) 
http://global.rakuten.com/en/store/groove/item/10000624/
This is a cute, Pop Pullip that was inspired by Japanese Pop Culture during her last visit in March 2013.
Groove invited Sheryl Designs at our office when she made her first visit to Japan. It was only a few hours meeting ,but I felt the genius of her.
I asked her if she make her original prototype Pullip for Pullip fans in the world.
She was very busy with her other projects (she was also invited to the doll event in Strasbourg in May), but she accepted our offer.
She said that before leaving Japan, she would spend her last days at Tokyo's cool and kawaii spots in Akihabara, Nakano, Shibuya and Harajuku for inspiration.
When she was back to work in Spain, we asked her to draw her concept designs sketch.
Usually she doesn't make drawings nor sketches of doll concepts previous to development.
She said:
"All the information is in my head and I make the dolls on the run, extemporary... sometimes the design changes while I'm making the doll, because I may have new ideas while the making of is in progress. I don't go to my parallel world only once at every design, in fact I go several times every day... XD"
But this time she did it specially for this project.
Here it is!!
She had lots of cool ideas. The design she finally chose is not as typical, but still has some original attributes.
It also has more possibilities to combine with optional complements. Specially, she remarked the value of adding a
headphone set.
She said;
"Many people want to get headphones for their dolls and it is a very wanted complement."
We developed a new type of headphone-set as a key element.
Next issue we talked over is wigs. At first she thought about the possibility of a wig with wicks of other colors (pink wig with wicks in dark pink, blonde, or purple lavender), or a wig with a gradient near the tips (pink roots gradient to cyan or blue tips).We studied the cost and the color combination of wigs again and again. Finally we chose the wig variation and the color mixture of pink and blue.
She finshed making the prototype doll and named
Akemi
.
Groove started making the developing samples.
We sent her one of them and she did several photo sessions of Akemi in mid-August.
**** Please note. The image is in under development. This spec may be changed without notice. ***
-- A headphone printed with her original design, DOLLYGEAR (Sheryl Design's brand for clothes, outfits and complements)
Akemi thinks she lives a normal life, but every time she sleeps she is able to fly to a parallel world in her dreams that feels more real to her than the real world.
She wants to be happy all the time and that's why she often prefers being in her dreamy world because everything is possible there.
She also loves dancing and hearing music, and wear feminine but comfortable clothes.
Akemi always tries to be the best in everything she does, and she knows somehow that she is different,special, and feels proud of it!
Her new dreams to come will be different in every home she lives in. Her next dreams are now in your hands!!
Please visit
http://www.sheryldesigns.com/about/
for the Story Behind Sheryl Designs.
Happy Birthday Vanessa!
関連記事

The story behind Pullip / Akemi
スポンサーサイト